Accessibility In Lucas Oil Stadium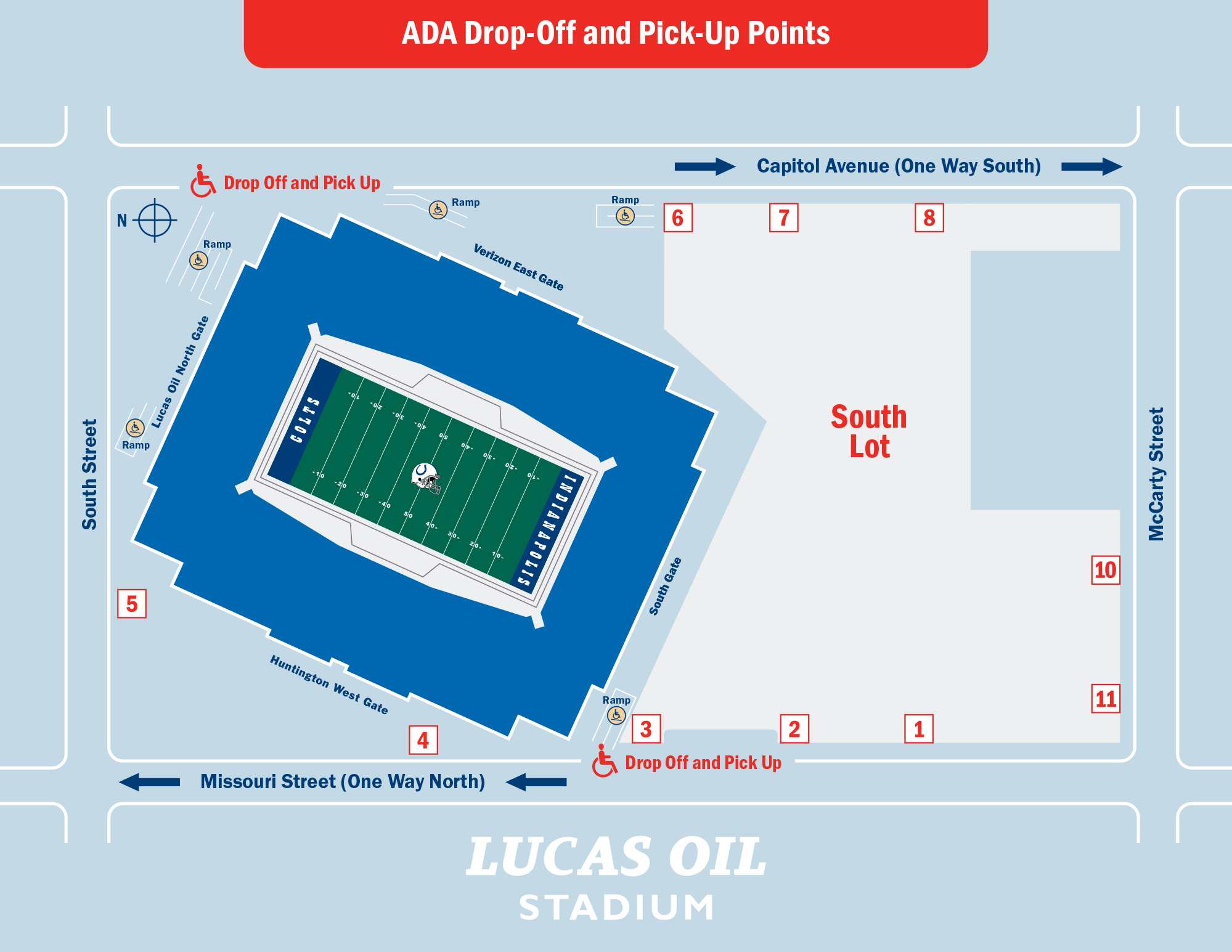 Lucas Oil Stadium is a fully accessible facility. All entrances into the stadium, as well as all levels of the stadium, are fully accessible via ramps, elevators and escalators. Accommodations for guests with disabilities include family restrooms, accessible ticket and concession counters, first-come first-serve designated parking, assisted listening devices, wheelchair assistance and more. Assistive animals are welcome in the facility.
Lucas Oil Stadium is pleased to provide fully integrated accessible seating for guests with disabilities and their guests. Guests with disabilities are encouraged to select their choice of seats from a wide array of options provided by the stadium. Please alert the Ticket Office of needs at the time of purchase. Seating for persons with disabilities will change with different event configurations, but at all times will be within the guidelines of the ADA.
Guests with disabilities holding non-accessible tickets that have been purchased at the Lucas Oil Stadium Ticket Office or through Ticketmaster are invited to any ticket window of the ticket office to request the exchange of their ticket for one that more appropriately meets their needs. Please know that seats are subject to availability on a first come, first served basis. Ticket exchanges cannot be made for tickets purchased from other sources.
For additional assistance, please contact Guest Services at (317) 262-8600 or the Ticket Office at (317) 262-3389.
The Lucas Oil Stadium Ticket Office and Will Call are located at the southeast corner of the stadium on Capitol Avenue. All ticket windows are accessible and Ticket Office staff can provide information on available seating options for events.
Guests with disabilities may be dropped off and/or picked up on the southwest corner pull-through location off of Missouri Street, or on the northeast side of the stadium, on Capitol Avenue by the Colts Pro Shop.
Guest Services staff are stationed throughout the stadium and are available to assist with general inquiries.
Lucas Oil Stadium is now certified sensory inclusive and offers sensory bags. The bags are equipped with noise cancelling headphones, fidget tools, verbal cue cards, and weighted lap pads for guests who feel overwhelmed, but want to stay engaged in the game or event they are attending. Guests will still have access to a designated quiet space within the stadium if a quieter and more secure environment is needed. Click here for more information.
Restrooms located throughout Lucas Oil Stadium provide accessible amenities.  In addition, Family Restrooms are available on all levels and quadrants of the stadium.
Assistive Listening Devices are available during all major stadium events.
All concession stands are accessible and large print menus are available upon request.
Assistive animals are welcome inside Lucas Oil Stadium.
For additional assistance, please contact Guest Services at (317) 262-8600 or the Ticket Office at (317) 262-3389.

2020 Monster Energy AMA Supercross [...]
2020 NCAA Men's Basketball Regional [...]
Indy Eleven vs. Louisville City FC [...]
+ Export Events
Stay connected. Get social.